The Tesla Model 3 lays claim to a position in the topmost echelon of luxury small cars. Rather than just drool over stunning photos of this electric vehicle littered over the internet or leave your mouth agape each time a model passes by, why not lay your hands on one for a real-time experience.
This EV is in a class of its own and better value for money than its close rivals. The personas of 'mad max' it possesses gives it the cutting edge over other EVs from the hum-drum brands which churn out seemingly dull and boring EVs year after year.
For the most part, its performance, handling, technology and perhaps, most importantly, experience makes it feel like a car from the future. Its handling is sharp and intuitive and it could breeze through the streets as quietly as a grounded teenager sneaking back into his room at night. While this might sound like an overstatement or exaggeration of the fact, it has been confirmed by many users to be really quiet.
Although it's length isn't so different from the Mercedes Benz C-class, it makes good use of its dimensions, giving off the feeling that it is roomier than most of its closest competitors. It also has an autopilot feature that you can turn on when you do not feel like dealing with the hassles and bustles of traffic.
Indeed, Tesla Model 3 has a bank of advantages that should force serious consideration from whoever is in search of a premium small sedan or some technologically advanced electric vehicle available in the market.
How much will a Tesla Model 3 cost?
Tesla Model 3 used cars that have a wide range of prices. Most often than not, a cheque of 66,621CAD can place one in your garage. Usually, prices can range from about 60,000CAD – 77,685 depending on a number of factors such as its features, location of the vehicle, mileage, date of purchase.
For the 2019 Tesla model 3 configurations (standard range, standard range plus, mid-range, long range, and performance), the price ranges from 47,000 CAD to 75,000 CAD. Taxes placed on new plug-in hybrids and electric vehicles, in general, do not apply to used models of the Tesla Model 3.
In most cases, used cars would usually cost significantly less than new cars. However, the same cannot be said of all Tesla cars. The new 2019 Tesla Model 3 stands out as one of the few instances where it might be more cost-effective to get a used model rather than a new one.
What Comes with a Tesla Model 3?
Having discussed the price of the Tesla Model 3, it is only natural that you be sure you are getting real value for money at that price. It goes without saying that this EV is the best you can get for that price range and with an incredible set of exciting features.
The Tesla Model 3 comes with an impressive navigation display screen size. It is also one of the very few cars that pull Google Maps data in real-time. The interface is also easy to use. That said, it might pop up really spotty information in places with low or poor network reception.
Interior
The interior of the Tesla Model 3 looks modern and feels on par with BMW Minis. It is surprisingly roomy and its driving position highly adjustable. This roomy feeling it gives in spite of the overall length of the car is not unconnected to its minimalistic approach as well as its all-glass roof. The forward visibility is also great because of its lack of engines – like what's obtainable with diesel-powered vehicles – and its corresponding low hood line.
Comfort
The Model 3 is very comfortable for drivers of all sizes. The seats, made with beautiful leather, provide nice support and cushion. A main con, however, is the non-perforated leather seats it uses. For warmer climates or tropical regions, the seats do not breathe all that well and can soak seat under really sunny conditions.
That said, the Model 3 puts drivers in warmer climates into consideration as well. Its incorporated innovative climate controls mean drivers and their front passengers can adjust the air vents on either side of the cabin directly at themselves.
Driving
The AWD model gives the Tesla Model 3 a sports-like car acceleration. Handling this EV can be as engaging as ever with its off-the-line performance not mentioning its responsive and intuitive steering. Interestingly, it can go as far as 60mph in under 5.5 seconds just like what was obtainable with the early long-range models that caught the eyes of many EV lovers.
Its all-season tires aren't exactly the grippiest – like those of the Lamborghini Aventador – but they do just enough to take through whatever form of spirited driving you would be doing on the roads or streets.
Safety
This is one of the most important pluses of the Tesla Model 3. The EV is made of a metal structure made from the combination of aluminum and steel, helping to boost its strength in every area. Interestingly, a roof-crush test conducted by Tesla Motors themselves showed that the vehicle could resist four times its own mass despite owning a glass roof. This mass is about the same weight as two fully grown African elephants, a hint to the significant safety of the vehicle.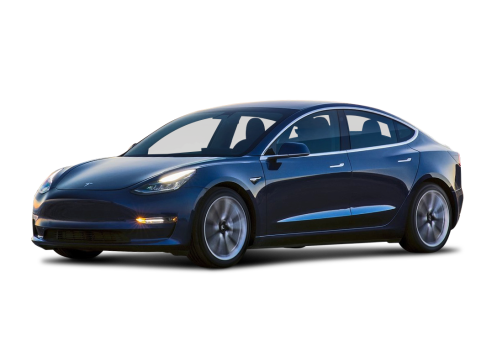 What is the difference between Tesla Model S and 3?
There isn't so much difference between both models save for price, range, and space. The Tesla Model S, an electric car is a luxury large car with a lot of room for both passengers and cargo. This makes it roomier overall than the way smaller Model 3. The Tesla Model S also has a longer range, going as high as 335 miles in higher trims. One other thing that could sway customers into giving the Model S the nod ahead of the Model 3 is the price. The Tesla Model S costs significantly higher than the Tesla Model 3, with as much as a 23,300 CAD difference.
While the Model S was designed to be the crème la crème of large luxury vehicles and in direct competition with the likes of the Mercedes S-class or the BMW 7 Series, the Model 3 was made for a lower-priced section of the auto market and made to compete with vehicles like the Mercedes C-class and the BMW 3 series on the lower end of the pricing spectrum. Interestingly, its features compete even directly even with the higher-priced Mercedes E-class or the BMW 5 series.
How fast is a Tesla Model 3?
The Tesla Model 3 rocked the headlines of most auto blogs when it was announced that the new release from Elon Musk's enterprise could do a 0-60mph in as little as 3.2 seconds. But how realistic is this quoted acceleration really?
On testing, the Tesla Model 3 could go as little as 3.52 seconds for 0-60mph, a negligible difference from the quoted acceleration. The only other cars within this price range that can accelerate this quickly are the Ariel Atom and Nomad. This quick acceleration is made possible by a carbon fiber spoiler which improves stability at high speeds.
While the 2019 Tesla Model 3 long range can reach a top speed of 225km/hr, the 2019 Tesla Model 3 Long-range hits a higher speed at 233km/hr.
Tesla Model 3 interior
The interior of the Tesla Model 3 is unlike most other cars. Basically, it is built around the driver or has its functions centered on the comfortability of the driver.
In general, your smartphone can function as a key and can be made to access all driver controls in the large central display screen. The all-glass roof of Model 3 which extends from the back all the way to the front also gives a sense of openness from the view of every seat.
Tesla Model 3 Price Canada
According to Tesla Canada, the Tesla Model 3 standard range @220 miles is now available at about $35,000. Although, it is lower in cost than the long-range model it offers the same safety ratings as the long-range model. The standard range plus model offers 240 miles of range, only for $2,000 more. This model, in fact, offers a perfect combination of increased power, range and an upgraded interior for only $37,000.
Our Tesla Model 3 review shows that the EV is worth the buy. It competes favorably with its competitors and in some quarters even does better than them.
The EV has quick acceleration and is extremely safe. Its impact-absorbing rails and center pillar reinforcements help provide protection from every side. The Tesla Model 3 safety ratings are also enhanced by its automatic emergency braking system as well as active cruise control. The automatic braking system warns if a front impact is imminent and automatically applies the brakes if the driver fails to respond in time; how cool is that?! The active cruise control helps maintain a set between the vehicle and another in front of it.
Since it is fully electric, you need not worry about visiting a gas station anymore. Once you charge overnight, you can be sure to wake up to a full battery early in the morning.
It is also very convenient and roomy for both the driver and his passengers.